In today's world where competition is rife and customers expect more from brands than they've ever done, businesses need as much help as they can to drive excellence throughout the customer experience (CX).
From the first touchpoint through to 'delighting' customers with their product experience, and beyond, the customer experience should be frictionless, considered and pre-empt needs before they're even expressed.
Moreover, the digital revolution means that CEO's expect their marketing departments to be more accountable than they've ever been; a marketing department can't be a colouring-in department. It's got to be a strategic wing that delivers qualified leads to the sales department.
Tracking ROI is critical.
To deliver on this, you need the right strategy, and the right platform.
We work with a lot of different software platforms (and recommend different platforms to our clients based on their needs). But after a decade using a variety of different platforms like SalesForce, Marketo, Zoho and Pardot (amongst many others), we chose to use Hubspot.
Here's 5-reasons why you'll love Hubspot;
1. One tool to rule them all combining CRM, Marketing Platform, Marketing Automation Platform and Sales Platform.
Looking under the hood of most Kiwi businesses, you'll find a patchwork quilt of software platforms, apps, and tools. Plug-ins, zaps and, more often, manual processes, move data from one place to another. This means things (sales) slip through the cracks. Particularly when a business experiences staff churn, or experiences growth.
HubSpot is a:
CRM platform. Track all your contacts and deals in a simple, uncomplicated way. Sales and marketing feed off, and into, the same tool.
Marketing platform. Optimise, measure and automate your online marketing using landing pages, SEO-friendly blog posts, email campaigns and workflows, contextual content & more.
Sales platform. Prospect activity (form completion, booking requests, phone calls, email opens) is tracked automatically within HubSpot. Sales can confidently follow up with prospects in the right way, at the right time. Here's an example of a lead's timeline in Hubspot.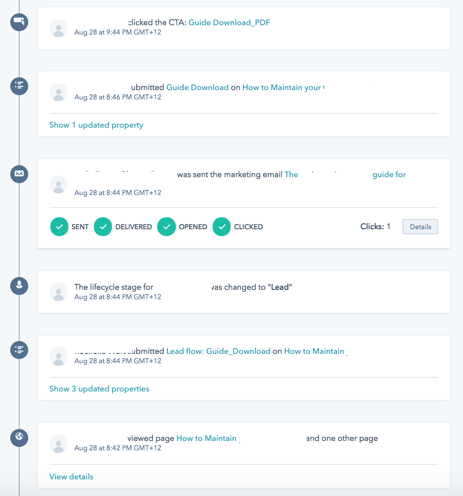 2. Show ROI with the click of a mouse.
Map customers back to channel to give the marketing team (and CEO or GM) crystal clear ROI. Here's a snapshot of today's outcomes in Hubspot.

3. Easy to use, so things get done.
They say "what gets measured gets done". But when your team is tackling development of marketing automations, workflows & nurture sequences, we like to say "if it's easy, it gets done". Hubspot makes it easy with drag and drop tools to build out sequences. Here's an example of simple drag n' drop tools used to build out workflows in Hubspot.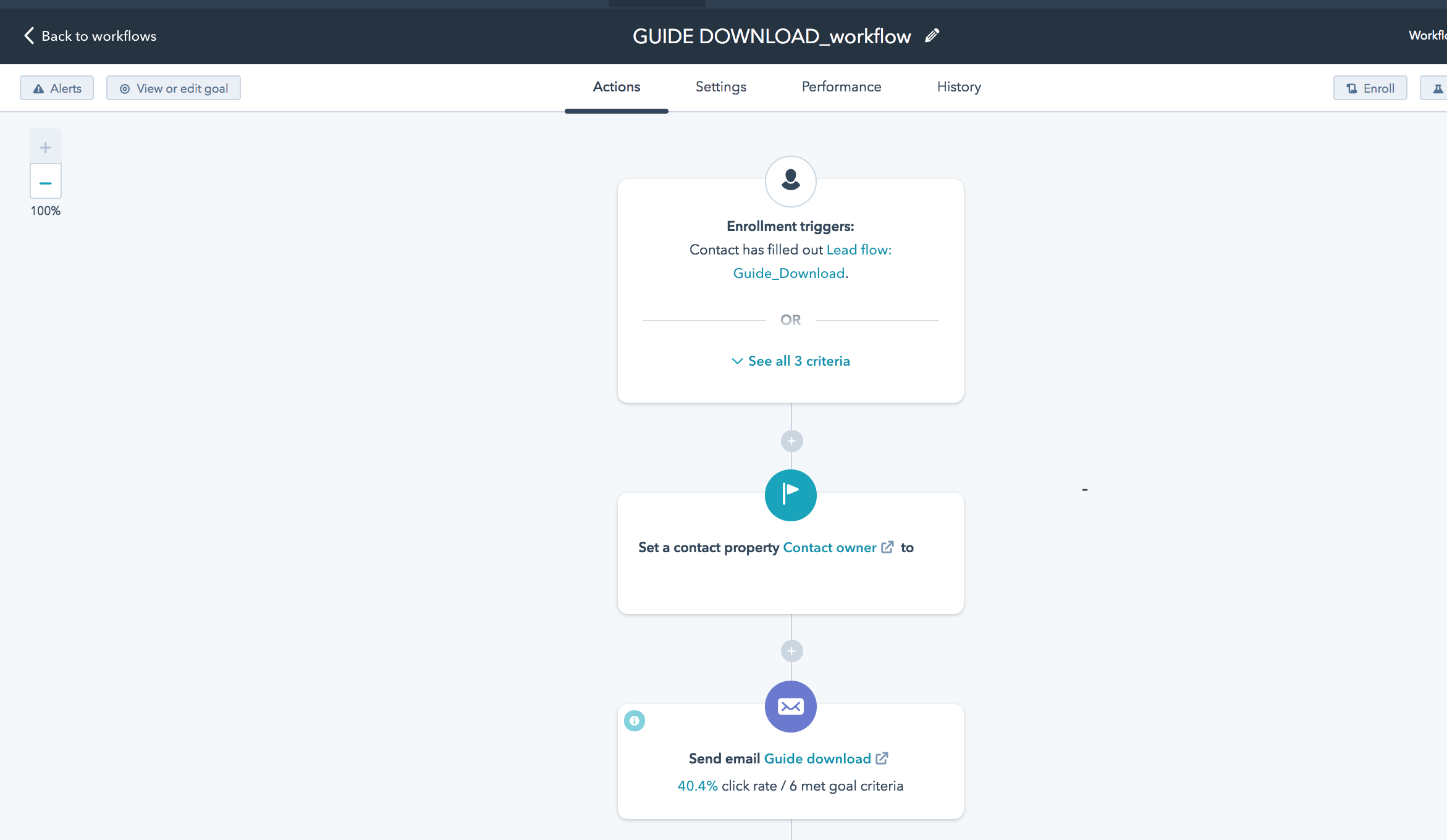 Salespeople don't want to spend a lot of time learning complicated software that bogs them down and makes their job more frustrating than it needs to be either. They'll abandon systems that don't work. You need to furnish them with a platform that makes their life (and the customer experience) easier.
Here's an example of Hubspot's meeting booking link: rather than salespeople wasting time trying to organise the right time and day for a meeting, customers can book meetings (or services) directly into a salesperson's calendar.

4. Training & certifications grow your team and make for cost-effective campaigns.
The Hubspot Academy (Hubspot's super-comprehensive training hub) is amazing. Your in-house team can learn to develop sequences, automations and landing pages rather than a business being reliant on external developers. You can build out or make edits to campaigns in a cost-effective way, in-house.
But more than this, you've got a resource that coaches the team through best practice on the areas you want to grow them in (and that they want to grow in!). Get the best training, from the experts, in social media, email marketing, working leads, blogging.. (the list is never-ending). With certifications, learning is gamified (doesn't everyone love a good reward system?) and encourages users to build their knowledge base.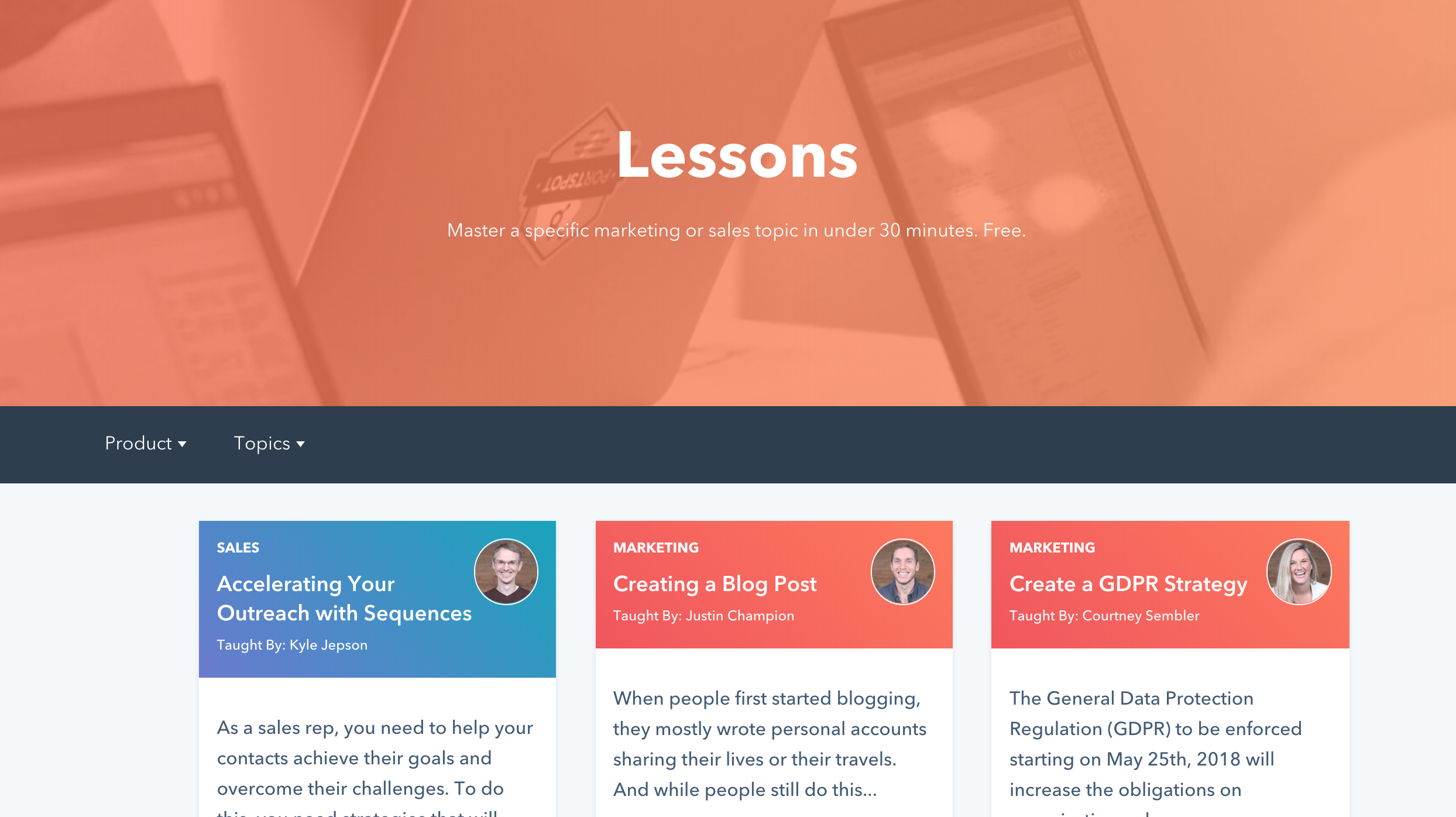 5. A top-notch support crew.
There's an active, large community who contribute to a Knowledge Base for quick solutions while the help desk can be accessed by chat, email or phone.
Thinking about how Hubspot could be integrated into, or replace the tools you currently use?
We can help. We offer a free assessment for businesses that reviews the tools you're currently using, with fit for Hubspot.