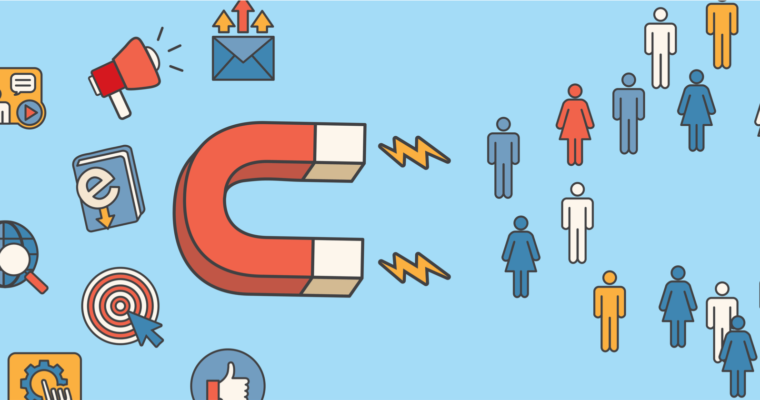 Let's start by answering the question "what is a lead"?
A lead is a person (prospect) who has indicated interest in your company's product or service in some way, shape, or form. To qualify as a lead, you must have some way to contact the prospect e.g. their email address.
What Is Lead Generation?
Lead generation is a marketing-owned tactic that enables businesses to capture a prospect's interest (and contact details) in a permissive way.
Remember the days of sales teams cold-calling outbound 'leads' who hadn't asked for a call, and who were probably in the middle of dinner (or at least would tell you they were)? They're over.
Today's marketer is focused on generating leads that have 'raised their hands': who have expressed interest in the problem your business solves. Effective lead generation uses digital assets (like blog content and social media) to attract interest: content is focused on the prospective buyer: on the problem they have. With the offer of valuable content (a 'lead magnet') that addresses the specific problems the prospective buyer faces, interest translates to lead generation through the use of tools like landing pages and forms which capture lead information in exchange for valuable content.
Lead generation focuses on the first two stages of the sales funnel: attract and convert;
Let's break that down...
First, a visitor discovers your business through one of your marketing channels, such as your website, blog, or social media page.
That visitor then clicks on your call-to-action (CTA) — an image, button, or message that encourages website visitors to take some sort of action.
The CTA takes your visitor to a landing page, which is a web page that is designed to capture lead information in exchange for an offer.
An offer is the content or something of value that's being "offered" on the landing page, like an ebook, a course, or a template. The offer must have enough perceived value to a visitor to merit providing their personal information in exchange for access to it.
The form on your landing page consists of a series of fields (like in our example above) that collect information in exchange for the offer. Forms are typically hosted on landing pages, although they can technically be embedded anywhere on your site. Once a visitor fills this out — voila! — you have a new lead! (That is, as long as you're following lead-capture form best practices.)
In summary: Visitor clicks a CTA that takes them to a landing page where they fill out a form to get an offer, at which point they become a lead.