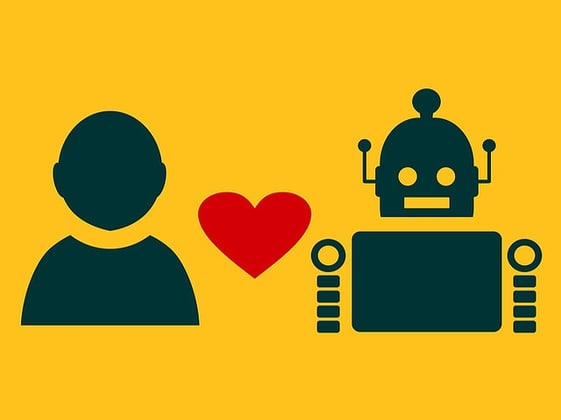 In an age where customers expect more from brands than they've ever done in the past & marketing teams have never been busier, Marketing Automation leverages technology to automate repetitive tasks and workflows. Done well, it can be used to tackle a business' real challenges: the things that keep us (and the team) up at night, like;
how do we increase traffic and improve lead generation?

how do we better convert leads to sale?

how do we increase spend per customer?
By automating lead and customer management, marketing automation contributes to: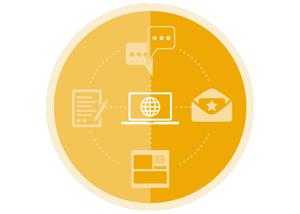 ↑

shorter sales cycles
↑ increased revenue
↑ improved NPS
↑ better marketing ROI
And, Marketing Teams can scale their efforts to attract, nurture and delight customers without a corresponding increase in headcount. Moreover, their optimisation efforts are measurable: changes to workflows can be made with the view to testing iterations and a culture of data-driven decision-making is fostered.
Highly-effective Marketing Automation carries three elements; the customer's action leads to an automated reaction, automated content moves the prospect closer to purchase (or improves their buying experience), and automations to drive cross-sell and up-sell.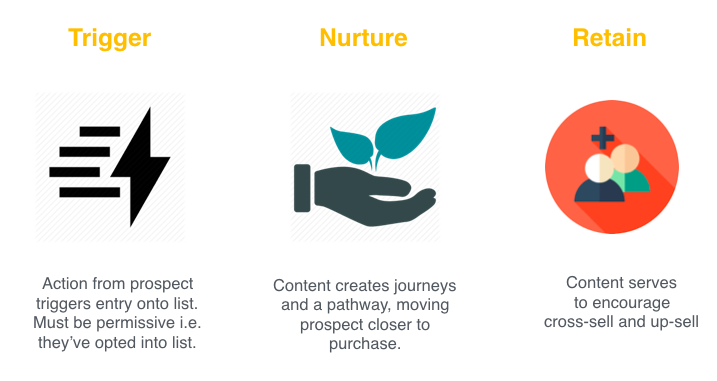 Initially, Marketing Automation was used predominantly to support the earliest stages of the sales funnel (e.g the offer of a discount with sign-up to a newsletter) and at purchase (e.g confirmation of shipping details) with minimal personalisation (e.g. Hi <<First Name>>!).
The best marketers are finding ways to use automation as a tool that supports and underpins the entire customer lifecycle : driving them forward from a prospect to a lead, to a customer, to a vocal advocate who purchases regularly and refers. These marketers have taken personalisation a step further: they develop a relationship with customers that shows they understand more than their first name, developing messaging and journeys that reflect the interests and behaviour of the prospect.
*That* level of personalisation, where segmentation is at the heart of the design, drives revenue.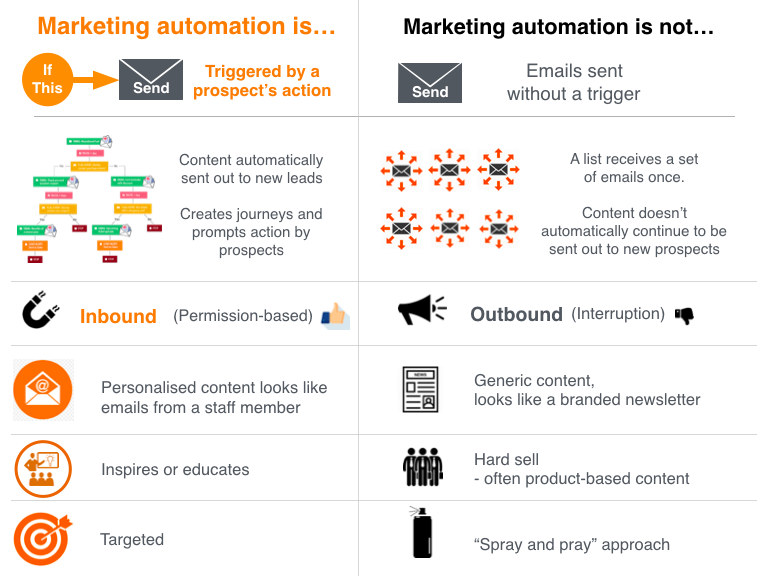 Why was Marketing Automation created?
The old days of mass marketing, email blasts, and buying lists don't work in a world where buyers use the web, search, and social media to take control of the buying process. Companies today meet prospective customers earlier in the buying cycle, and those customers want to engage with sales later than ever (often only once they've evaluated several products). As a result, the old model where marketing generates a lead and sends it over to sales doesn't work anymore. Instead, Marketing Automation can be used to bridge the gap between the day marketing first generates a lead and the day that lead is ready for sales.

Marketing Automation Techniques
Marketing Automation uses a variety of marketing techniques to support processes. These include;
Lead nurturing
the technique of giving a target group the right information, at the right time, in the right way, to 'nurture' them from awareness to purchase.



Lead scoring


a methodology used to rank prospects against a scale that represents the perceived value each lead represents to the business. As a prospect views pages on your website across multiple visits, their specific activities gain merits and demerits. Particular sum point totals trigger further Marketing Automation events, with a particular sum total designated to indicate a prospect may be ready to transact with the sales team. For example;
Opened comparison guide=

+30 points

<-- This page has a higher merit value attached to it as the content indicates the buyer is at a 'consideration' rather than an 'awareness' stage: they are further along the buyer's journey
Opened blog page =

+5 points
Opened careers page=

– 30 points

<-- This page has a negative bearing as it indicates this is not a prospect interested in purchase

A/B Testing
Assessment through A/B testing should be continuous and integrated with your marketing process. This will ensure that your campaign is always at the best it can possibly be. You don't have to do the step by step process of A/B testing anymore because it can now be automated too.


Segmentation
the process of dividing a market into clusters useful to your business so that there are similar characteristics within groups, and meaningful differences between groups in areas that matter to your business. Segmentation underpins the creation of tiered, personalised experiences with a clear customer journey relevant to each group: it's the foundation for increased conversion rates and improved ROI.



Cross-Channel Marketing Automation




Customers no longer rely on a single channel to learn about products and services. With cross-channel Marketing Automation, you can orchestrate interactions and automated responses and content based on the context of how, when, where, and why customers are interacting with your brand. Marketing Automation can run across channels, with a 360-degree, holistic approach that could include;

Email Marketing

Text Messages

Social Media

Google Display Ads / Remarketing Ads.
Considering how your team needs to be developed to support a Marketing Automation programme? Here are the key competencies every marketing team needs for an effective Marketing Automation programme.